Alcidion Group Limited (ASX: ALC) Q3 FY2020 Business Update
The solid result with a strong pipeline despite COVID-19 for the Alcidion Q4 Report;
Alcidion Group Limited (ASX: ALC) on 28 April 2020 released its Appendix 4C and business update for the three-month period ended 31 March 2020 (Q3 FY2020) regarding Alcidion Q4 Report.
(Graphic Source – Company Reports)
Highlights of Alcidion Q4 Report:
Solid performance amidst COVID-19 pandemic, highlighting the importance of Alcidion's platform; sales pipeline remains strong across all markets;
At the end of Q3, $17.2M in sold revenue to be recognised in FY2020, exceeding FY2019 full year revenue of $16.9M;
Solid start to H2 with $4.2M revenue from new contracts added in Q3, of which $2.4M should be recognised in FY2020; and
Total contracted revenue of $41.6M out to FY2025 (including FY2020 $17.2M) and a strong balance sheet with cash reserves of $15.9M; and
Significant new contracts signed since 1 January 2020 include:

Townsville Hospital and Health Service contract to implement Smart page; and
An extension and renewal agreement with NHS Fife for a further five years; and
The implementation of a data warehouse across all Calvary Health Care sites; and
Systems integration contract for national Digital Pregnancy Health Record pilot; and
Murrumbidgee LHD to expand and extend the use of Miya Precision and Miya MEMRe.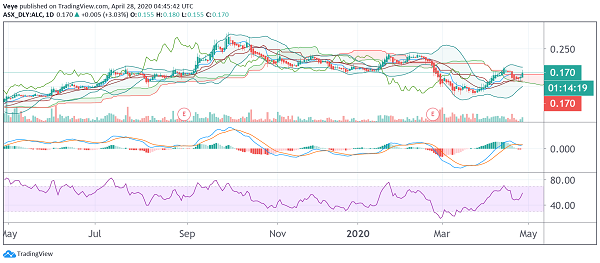 (Chart source: TradingView) https://www.tradingview.com/symbols/ASX-ALC/
COVID-19
While the COVID-19 crisis has not had a significantly negative impact to date, but Alcidion will continue to monitor the potential risks to its business and the broader healthcare market. The business has been able to adapt to a remote working environment without interruption of services to clients, and there exists a strong sales pipeline across all markets. (Data Source – Company Reports)
---
Q4 Summary of Performace
Alcidion business has delivered a solid performance over the quarter with a number of new or expanded contracts being signed globally amidst unprecedented global healthcare and economic crisis. Its platform is successfully supporting its customers in managing clinical risk and resources and improving efficiency, with new sales opportunities being generated to offset other opportunities that have been deferred.
A Significant Value Add?
The current crisis has also enabled the Company to demonstrate the value of its technology in managing and monitoring patients outside of the hospital setting. Alcidion has a strong balance sheet and the customer base is largely public sector customers with long term contracts in place.The stock after retracement from its known support had a bullish crossover. It is now trading above its strong support at $0.16. It is making a very good cup and handles pattern which could open its potential for a significant upside. Clearing another hurdle at $0.19 could open its doors for earlier highs.
---
Learn How We Analyze A Company:
What Are We Currently Buying?
In the past few weeks here's some exciting companies we jumped in on:
-This is opinion only. This is not investment advice-